Ask ten experts about the origins of this bright red chocolate cake with creamy white icing, and you'll get at least six different answers. One legend is that it was first served at New York's Waldorf Astoria Hotel in the 1920s (some say it was the 1950s). Others swear that red velvet cake has its roots in southern cooking. The flavor isn't strongly chocolate; the ratio is typically 2 tablespoons cocoa powder per 2½ cups flour. And, though some believe the color comes from the chemical reaction between the cocoa and baking soda, the truth is that it's due to a healthy dose (1½ to 2 ounces) of red food coloring. Some recipes call for boiled beets as a color enhancer. This novelty cake got a boost in popularity in the late 1980s from the film Steel Magnolias, where it was served as an armadillo-shaped groom's cake.

From The Food Lover's Companion, Fourth edition by Sharon Tyler Herbst and Ron Herbst. Copyright © 2007, 2001, 1995, 1990 by Barron's Educational Series, Inc.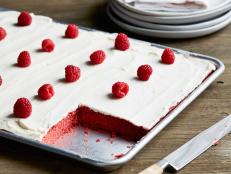 And its original frosting (not cream cheese, thank-you-very-much).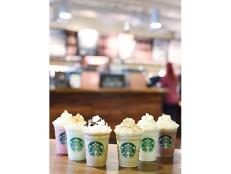 In honor of the Frappuccino's 20th anniversary (I know, it doesn't look a day over 19), Starbucks is debuting six new fan-recipe-inspired flavors.