Created in the mid-1800s by Philadelphia pharmacist Charles Hires, the original root beer was a (very) low-alcohol, naturally effervescent beverage made by fermenting a blend of sugar and yeast with various roots, herbs and barks such as sarsaparilla, sassafras, wild cherry, wintergreen and ginger. Today's commercial root beer is completely nonalcoholic and generally contains sugar, caramel coloring, a combination of natural and artificial flavorings (including some of those originally used) and carbonated water for sparkle.

From The Food Lover's Companion, Fourth edition by Sharon Tyler Herbst and Ron Herbst. Copyright © 2007, 2001, 1995, 1990 by Barron's Educational Series, Inc.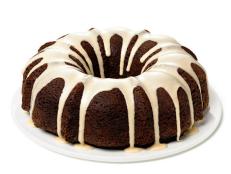 Food Network is tackling and transforming root beer -- the sweet, carbonated soda pop -- into root beer recipes like a chocolate bundt cake and grown-up root beer float.