Milled from a hardy cereal grass, rye flour contains less gluten (protein) than all-purpose or whole-wheat flour. For that reason, it won't produce a well-risen loaf of bread without the addition of some higher-protein flour. Rye flour is also heavier and darker in color than most other flours, which is why it produces dark, dense loaves. There are several different types of rye flour, the most common of which is medium rye flour, available in most supermarkets. Light or dark rye flours, as well as pumpernickel flour (which is dark and coarsely ground), are available in natural food stores and some supermarkets. See also flour.

From The Food Lover's Companion, Fourth edition by Sharon Tyler Herbst and Ron Herbst. Copyright © 2007, 2001, 1995, 1990 by Barron's Educational Series, Inc.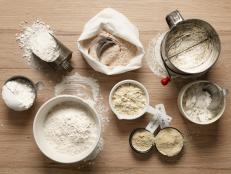 Learn what differentiates types of flour and how to choose the one that's best for your desired baking outcome.