A kitchen utensil that uses centrifugal force to dry freshly washed salad greens, herbs, etc. Wet ingredients are placed in an inner basket. The basket is set into an outer container fitted with a lid with a gear-operated handle or pull-cord. As the handle is turned (or cord pulled), the perforated inner container spins rapidly, forcing moisture off the food out through the perforations and into the outer container.

From The Food Lover's Companion, Fourth edition by Sharon Tyler Herbst and Ron Herbst. Copyright © 2007, 2001, 1995, 1990 by Barron's Educational Series, Inc.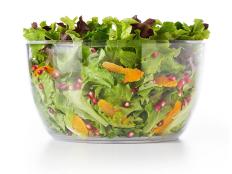 We spun multiple heads of romaine to find the best salad spinners.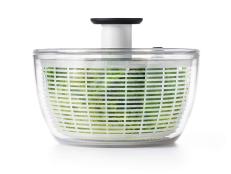 We all love a multi-functional kitchen gadget, right?