Pronunciation: [sahl-tihm-BOH-kuh]

Literally translated, this Italian term means "jump mouth." It refers to a Roman specialty made of finely sliced veal sprinkled with sage and topped with a thin slice of prosciutto. It's sautéed in butter, then braised in white wine. Sometimes the meat layers are rolled and secured with picks before being cooked.

From The Food Lover's Companion, Fourth edition by Sharon Tyler Herbst and Ron Herbst. Copyright © 2007, 2001, 1995, 1990 by Barron's Educational Series, Inc.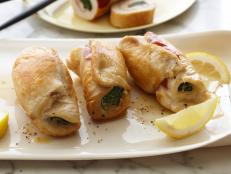 Upgrade your chicken dinner routine with Giada's prosciutto-filled chicken rollups.