Pronunciation: [SKOR-pee-uhn]

A potent cocktail consisting of light rum, brandy, orange juice, lemon juice and orgeat syrup, served over ice.

From The Food Lover's Companion, Fourth edition by Sharon Tyler Herbst and Ron Herbst. Copyright © 2007, 2001, 1995, 1990 by Barron's Educational Series, Inc.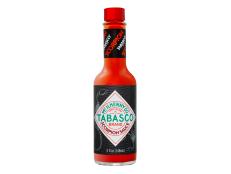 Some like it hot? Turns out more may like it hot than the producer of Tabasco sauce may have predicted.