A hard-cooked egg that is coated with sausage, dipped into beaten egg, rolled in breadcrumbs and deep-fried. Scotch eggs are halved or quartered lengthwise and may be served hot or cold, usually as an appetizer.

From The Food Lover's Companion, Fourth edition by Sharon Tyler Herbst and Ron Herbst. Copyright © 2007, 2001, 1995, 1990 by Barron's Educational Series, Inc.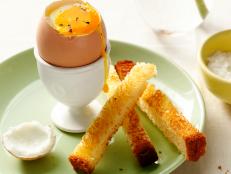 Egg lovers, rejoice! Here's a recipe for every Sunday until this time next year from Food Network Magazine.