To brown meat quickly by subjecting it to very high heat either in a skillet, under a broiler or in a very hot oven. The object of searing is to seal in the meat's juices, which is why British cooks often use the word "seal" to mean the same thing.

From The Food Lover's Companion, Fourth edition by Sharon Tyler Herbst and Ron Herbst. Copyright © 2007, 2001, 1995, 1990 by Barron's Educational Series, Inc.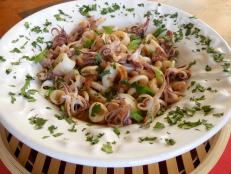 Restaurant-style calamari is typically breaded and fried which means it's loaded with calories and fat. Prepare it at home to get the health benefits, minus the excess fat.