Though the United States has only recently begun to appreciate the merits of this fish, other cultures have eaten shark for eons. Some of the more popular shark species are leopard, mako, soupfin and thresher. Sharks marketed for food range in size from 15 to 120 pounds. Though some of the smaller ones are sold whole, fillets, steaks or chunks are the more common market forms. The shark's flavorful, lowfat flesh is dense and meatlike. Because of its metabolism, however, it has a tendency to smell of ammonia. This off-putting odor can easily be eliminated by soaking the fish in milk or acidulated water. Shark can be prepared in a variety of ways including broiling, grilling, baking, poaching and frying. It's also delicious in soups, and cold, cooked shark can be used in salads. See also dogfish; fish; shark's fin.

From The Food Lover's Companion, Fourth edition by Sharon Tyler Herbst and Ron Herbst. Copyright © 2007, 2001, 1995, 1990 by Barron's Educational Series, Inc.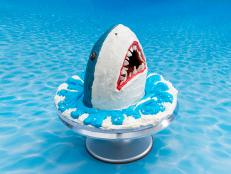 Celebrate the 30th anniversary of Discovery's Shark Week with a terrifying treat.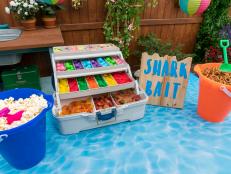 Take a bite out of party planning for your next shark-themed gathering. We're throwing a "piece-of-cake" party and giving you a couple of easy serving ideas so that you can pull together your party in minutes.