Pronunciation: [sloh JIHN]

A liqueur made by steeping pricked or crushed sloes in gin.

From The Food Lover's Companion, Fourth edition by Sharon Tyler Herbst and Ron Herbst. Copyright © 2007, 2001, 1995, 1990 by Barron's Educational Series, Inc.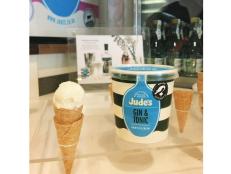 The perfect summer refresher: gin and tonic or ice cream? Now you don't have to choose.