Small, spring-operated tongs used to hold hot snail shells while extracting the snail. Unlike most tongs, these open by squeezing the handles. When the pressure is released, the tongs snap securely around the snail shell.

From The Food Lover's Companion, Fourth edition by Sharon Tyler Herbst and Ron Herbst. Copyright © 2007, 2001, 1995, 1990 by Barron's Educational Series, Inc.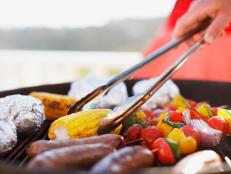 Whether handling heavy or delicate foods, the right tongs make a huge difference.