A nondairy frozen dessert based on soy milk. This "ice cream" comes in a variety of styles (including high-fat premium, low-fat and sugar-free) and flavors ranging from various fruits to chocolate. The fat in soy ice cream is typically partially hydrogenated (see fats and oils) soybean oil, although other oils such as palm-kernel oil are also used. Soy ice cream can be found in supermarkets as well as in natural food stores.

From The Food Lover's Companion, Fourth edition by Sharon Tyler Herbst and Ron Herbst. Copyright © 2007, 2001, 1995, 1990 by Barron's Educational Series, Inc.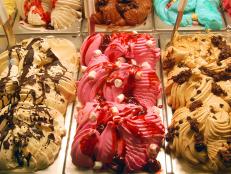 No, gelato and ice cream aren't the same thing. Here are a few key differences.