Resembling miniature dry-roasted peanuts, soy nuts are made by roasting whole, water-soaked dried soybeans. They're extremely crunchy and have a nutlike flavor. Packages of soy nuts (lightly salted or salt free) can be found in natural food stores and some supermarkets. They can be stored at room temperature for up to a month. Eat soy nuts as a snack, add to salads or sprinkle over dishes as a garnish.

From The Food Lover's Companion, Fourth edition by Sharon Tyler Herbst and Ron Herbst. Copyright © 2007, 2001, 1995, 1990 by Barron's Educational Series, Inc.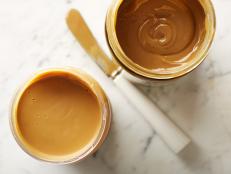 Which of these alterna-nut butters is the superior pick? Just in time for the back-to-school season, two sandwich spreads battle it out.