Brand name of a canned seasoned pork product, created in the United States by the Hormel Company in 1926. This product was originally called "Spiced Ham," but got a name change in the 1930s via a contest with a grand prize of $100. And so the name "Spam" was born. Because it wasn't rationed like beef, Spam became an all-American staple during World War II. Several styles are now available including regular, low-sodium and smoked.

From The Food Lover's Companion, Fourth edition by Sharon Tyler Herbst and Ron Herbst. Copyright © 2007, 2001, 1995, 1990 by Barron's Educational Series, Inc.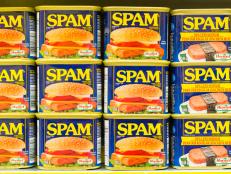 Whether it's a mainstay in your pantry or you're trying it for the first time, here are some fresh ways to use budget-friendly Spam.