Pronunciation: [SPACH-oo-luh]

A flattish, rather narrow kitchen utensil that comes in a variety of shapes and sizes. Depending on the material from which it's made (which includes wood, metal, rubber and plastic), spatulas can be used for a plethora of kitchen tasks. Rigid wood spatulas are good for scraping the sides of pots and turning foods, whereas softer plastic or rubber spatulas are better for stirring ingredients in a curved bowl and folding mixtures together. Flexible metal spatulas—both long and short—are perfect for spreading frosting on cakes.

From The Food Lover's Companion, Fourth edition by Sharon Tyler Herbst and Ron Herbst. Copyright © 2007, 2001, 1995, 1990 by Barron's Educational Series, Inc.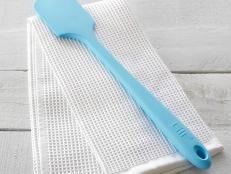 You need this in your kitchen drawer, stat.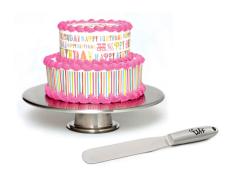 Enter for a chance to win Duff Goldman baking products from Food Network.