To soak dry ingredients such as tea leaves, ground coffee, herbs, spices, etc., in liquid (usually hot) until the flavor is infused into the liquid.

From The Food Lover's Companion, Fourth edition by Sharon Tyler Herbst and Ron Herbst. Copyright © 2007, 2001, 1995, 1990 by Barron's Educational Series, Inc.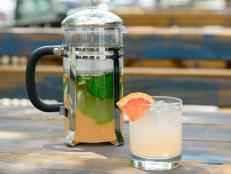 These three restaurants and bars prove that coffee tools don't have to be one-beverage wonders.