1. To pour a liquid or dry ingredient through a sieve, strainer or cheesecloth to remove undesirable particles. 2. To press soft food through the holes of a sieve, which results in a puréed texture. Food for infants or those on special diets is sometimes processed this way.

From The Food Lover's Companion, Fourth edition by Sharon Tyler Herbst and Ron Herbst. Copyright © 2007, 2001, 1995, 1990 by Barron's Educational Series, Inc.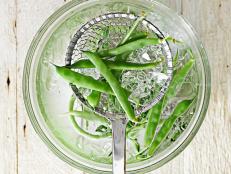 Did we mention it's super cheap?