A kitchen utensil with a perforated or mesh bottom used to strain liquids or semiliquids, or to sift dry ingredients such as flour or powdered sugar. Strainers, also called sieves, come in a variety of sizes, shapes and mesh densities. There are flat-bottomed, drum-shaped strainers with interchangeable meshes of different coarseness, as well as those that are bowl-shaped or conical. Strainers are made of various materials including stainless steel, tinned steel and aluminum. The better ones have strong handles and frames and contain hooks for resting the strainer on top of pots or bowls.

From The Food Lover's Companion, Fourth edition by Sharon Tyler Herbst and Ron Herbst. Copyright © 2007, 2001, 1995, 1990 by Barron's Educational Series, Inc.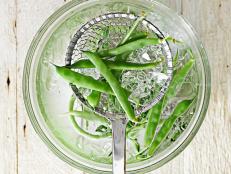 Did we mention it's super cheap?