A mixture used to stuff poultry, fish, meat and some vegetables. It can be cooked separately or in the food in which it is stuffed. Stuffings (also called dressings) are usually well seasoned and based on breadcrumbs or cubes, though rice, potatoes, herb mixtures or other foods may also be used.

From The Food Lover's Companion, Fourth edition by Sharon Tyler Herbst and Ron Herbst. Copyright © 2007, 2001, 1995, 1990 by Barron's Educational Series, Inc.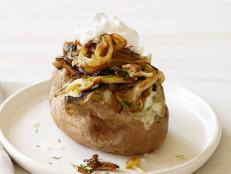 Serve these spuds from Food Network Magazine as the main dish: They're loaded with tasty toppings.