A technique by which ingredients, particularly vegetables, are cooked in a small amount of fat over low heat. The ingredients are covered directly with a piece of foil or parchment paper, then the pot is tightly covered. With this method, the ingredients soften without browning, and cook in their own juices.

From The Food Lover's Companion, Fourth edition by Sharon Tyler Herbst and Ron Herbst. Copyright © 2007, 2001, 1995, 1990 by Barron's Educational Series, Inc.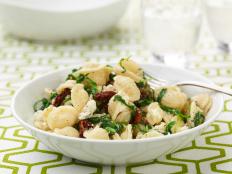 You'll want these no-cook pasta sauces on hand when the temperature reaches an all-time high.