This member of the beet family is grown for its crinkly green leaves and silvery celerylike stalks. The variety with dark green leaves and reddish stalks (sometimes referred to as rhubarb chard) has a stronger flavor than that with lighter leaves and stalks. There's also a ruby chard, which has a bright red stalk and deep red veins. Rainbow chard has stalks that come in a bevy of colors including pink, orange, red, purple, white with red stripes, ivory with pink stripes — the list is endless. Chard is available year-round but is best during the summer. Choose it for its tender greens and crisp stalks. Store wrapped in a plastic bag in the refrigerator for up to three days. The greens can be prepared like spinach; the stalks, like asparagus. A cruciferous vegetable, chard is a good source of vitamins A and C, as well as iron.

From The Food Lover's Companion, Fourth edition by Sharon Tyler Herbst and Ron Herbst. Copyright © 2007, 2001, 1995, 1990 by Barron's Educational Series, Inc.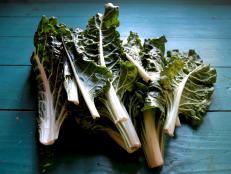 This leafy green is in season and ready to bring nutritional goodness to your table.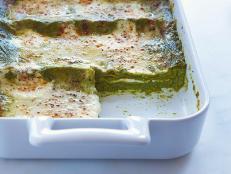 Take the Chopped Dinner Challenge and make this recipe for dinner tonight. You'll feel like you've become a winning Chopped competitor in your own home.