Pronunciation: [tuh-BOO-luh]

A Middle Eastern dish of bulghur wheat mixed with chopped tomatoes, onions, parsley, mint, olive oil and lemon juice. It's served cold, often with a crisp bread such as lavosh.

From The Food Lover's Companion, Fourth edition by Sharon Tyler Herbst and Ron Herbst. Copyright © 2007, 2001, 1995, 1990 by Barron's Educational Series, Inc.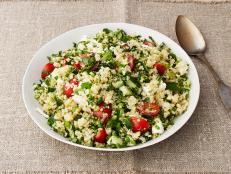 Ina's Mediterranean-inspired dish comes together in just 35 minutes. Combine hearty quinoa with a lemon-infused olive oil mixture plus fresh parsley, mint and scallions.