Pronunciation: [taht-SOY]

Also known as spoon cabbage and Chinese flat cabbage, tatsoi has small, dark green spoon-shaped leaves with a pale stem. Its flavor is sweet and earthy with a mild mustard tang. The leaves make a flavorful addition to salads and can also be added at the last minute to stir-fry and other cooked dishes. The crunchy stalks of mature tatsoi can be used as one would use celery.

From The Food Lover's Companion, Fourth edition by Sharon Tyler Herbst and Ron Herbst. Copyright © 2007, 2001, 1995, 1990 by Barron's Educational Series, Inc.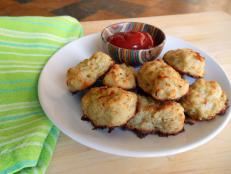 Robin's healthy tater tots are baked and have zero fat and fewer calories than the classic deep-fried potato.