A straight whiskey that is, for the most part, very similar to bourbon, which is why it's sometimes called "Tennessee bourbon." It must be made from a mash of at least 51 percent of a single grain (usually, but not always, corn), must not exceed 160 proof (80 percent alcohol), must be aged in oak barrels for 2 years and may only be diluted with water to no less than 80 proof. The biggest difference between bourbon and Tennessee whiskey is that the latter is slowly filtered through large vats of sugar-maple charcoal, which gives it a definitively sweet characteristic.

From The Food Lover's Companion, Fourth edition by Sharon Tyler Herbst and Ron Herbst. Copyright © 2007, 2001, 1995, 1990 by Barron's Educational Series, Inc.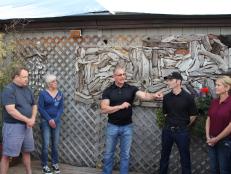 Find out how Whiskey Creek Steakhouse is doing after their Restaurant: Impossible renovation with Food Network's Robert Irvine.