Pronunciation: [tuh-LAH-pee-uh]

An important food fish in Africa for eons, tilapia are aquacultured around the world from Asia, to South America, to the United States and Canada. The lowfat flesh is white (sometimes tinged with pink), sweet and fine-textured. It's suitable for baking, broiling, grilling and steaming. The tilapia is also called St. Peter's fish and, in Hawaii, Hawaiian sun fish. See also fish.

From The Food Lover's Companion, Fourth edition by Sharon Tyler Herbst and Ron Herbst. Copyright © 2007, 2001, 1995, 1990 by Barron's Educational Series, Inc.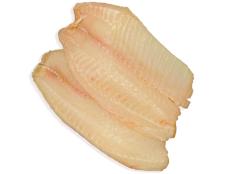 Learn how to cook and buy fresh tilapia the right way, plus get delicious easy-to-make recipes from the chefs at Food Network.