pl. Although toddy has different meanings around the world, in the United States and Britain, it refers to a hot water-based drink, generally spiced and liberally laced with alcohol. The word comes from tari, the Hindu word used for the sap or juice of a palm tree. In Asia, this sap was often fermented to create an alcoholic beverage. British sailors picked up on the idea, which eventually evolved into the toddy.

From The Food Lover's Companion, Fourth edition by Sharon Tyler Herbst and Ron Herbst. Copyright © 2007, 2001, 1995, 1990 by Barron's Educational Series, Inc.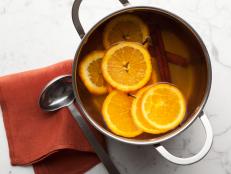 Try these delicious hot toddies, with and without alcohol, for fewer calories than other hot drinks.