Pronunciation: [ter-DUHK-ehn]

A dish consisting of a small de-boned chicken stuffed inside a de-boned duck stuffed inside a turkey that's de-boned except for legs and wings. The chicken's cavity and spaces between each of the birds are filled with stuffing. This can vary from recipe to recipe, with some recipes including a different stuffing for each bird and others having a single type. The name is a combination of the birds used—TURkey-DUCk-chicKEN. The dish, which has become quite popular at Thanksgiving, has more complex flavors than just turkey and is easier to slice since the bones have been removed. Though Paul Prudhomme is often credited with creating the turducken, there is some dispute about its origin; he has, however, certainly promoted it and helped make it popular. It's also gained great fame from football announcer John Madden, who is certain to mention turducken during games occurring around Thanksgiving time. Turducken isn't totally unique; the English have their three bird roast, which generally consists of a goose, stuffed with chicken, stuffed with pheasant.

From The Food Lover's Companion, Fourth edition by Sharon Tyler Herbst and Ron Herbst. Copyright © 2007, 2001, 1995, 1990 by Barron's Educational Series, Inc.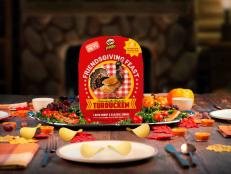 The crisp maker's Friendsgiving Feast Turducken Kit is here to make your triple-fowl holiday dreams come true.