Called offal in Great Britain, variety meats are animal innards and extremities that can be used in cooking or in the production of foods such as sausage. The category includes brains, cheeks, intestines, feet and ankles, heart, kidneys, lungs, liver, marrowbone, spleen, stomach, tail, testicles, thymus and pancreas, and tongue.

From The Food Lover's Companion, Fourth edition by Sharon Tyler Herbst and Ron Herbst. Copyright © 2007, 2001, 1995, 1990 by Barron's Educational Series, Inc.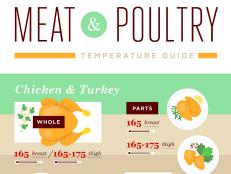 Use our internal-temperature chart to serve perfectly cooked meat every time.