A kitchen utensil designed to peel away the outer skin of vegetables. Vegetable peelers come in many designs and are made from a variety of materials. The better ones have a swivel-action blade that conforms to the contour of the vegetable being peeled, thereby cutting away a minimum of skin.

From The Food Lover's Companion, Fourth edition by Sharon Tyler Herbst and Ron Herbst. Copyright © 2007, 2001, 1995, 1990 by Barron's Educational Series, Inc.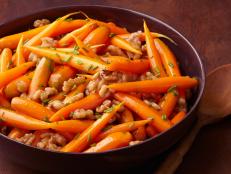 You won't run short on side dishes this year...or next.