Also called plant protein or textured vegetable protein, this product is obtained from protein-rich soybeans. The beans are ground and processed through a spinning/extrusion technique until they become strands of almost pure protein. Vegetable protein is used in commercial meat and poultry products as a binder and extender. It can be found in foods such as meat substitutes, luncheon meats and sausages, as well as in packaged sauces, soups and other processed foods. Although nutritiously rich, vegetable protein can't match the flavor and aroma of the meat products. See also hydrolyzed plant protein.

From The Food Lover's Companion, Fourth edition by Sharon Tyler Herbst and Ron Herbst. Copyright © 2007, 2001, 1995, 1990 by Barron's Educational Series, Inc.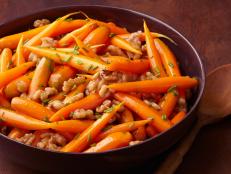 You won't run short on side dishes this year...or next.