Pronunciation: [VIHN-tihj]

A term in the wine world that describes both the year of the actual grape harvest and the wine made from those grapes. In the United States, the label may list the vintage year if 95 percent of the wine comes from grapes harvested that year. If a blend of grapes from two or more years is used, the wine is nonvintage (NV), but that doesn't mean it's not as good as a vintage wine. Consumers should consider a vintage year only as a general guideline. An excellent year for a growing region translates to a generally superior quality, which means there are more choices for fine wines of that vintage. In the end, however, each wine must be judged on its own merit.

From The Food Lover's Companion, Fourth edition by Sharon Tyler Herbst and Ron Herbst. Copyright © 2007, 2001, 1995, 1990 by Barron's Educational Series, Inc.

To complete the package, we've asked the experts at HGTV's Design Happens blog to "set the table" for us.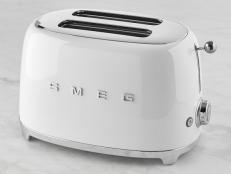 We're cookin' it old-school — sort of.
Get all the details on the upcoming premieres this weekend on Food Network.