Waffles are made by pouring a light batter onto one side of a waffle iron, a special hinged cooking utensil with two honeycomb-patterned griddles. The second side is closed over the batter and the waffle is cooked until browned and crisp. Waffle irons can be electric or designed for stovetop cooking. Electric waffle irons have heating elements in both sides, thereby cooking the two sides of the bread at once. Irons heated on top of a stove must be turned over once during cooking to finish the second side. There are a number of waffle iron shapes available including square, rectangular, round and even heart-shaped. Belgian waffles, which are often heaped with fresh strawberries and whipped cream, are made on special waffle makers with large, deep grids. Most modern waffle irons have nonstick surfaces.

From The Food Lover's Companion, Fourth edition by Sharon Tyler Herbst and Ron Herbst. Copyright © 2007, 2001, 1995, 1990 by Barron's Educational Series, Inc.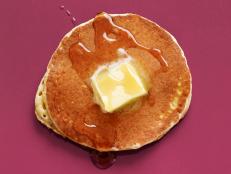 Upgrade your Sunday brunch with a short stack from Food Network Magazine.