Pronunciation: [WAH-sah-bee]

This Japanese version of horseradish comes from the root of an Asian plant. It's used to make a green-colored condiment that has a sharp, pungent, fiery flavor. Wasabi, which is also called Japanese horseradish, is available in both paste and powder form in specialty and Asian markets as well as supermarkets. Some specialty produce markets carry fresh wasabi, which may be grated like horseradish. In Japan, sushi and sashimi are served with a condiment of wasabi mixed with soy sauce.

From The Food Lover's Companion, Fourth edition by Sharon Tyler Herbst and Ron Herbst. Copyright © 2007, 2001, 1995, 1990 by Barron's Educational Series, Inc.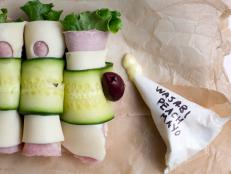 Try these Ham and Cheese Roll-Ups with Wasabi-Peach Sauce and keep coming back every Wednesday for a new recipe idea that will set your lunchbox apart from the rest, Chopped Junior style.