Pronunciation: [zoo-KEE-nee]

A popular summer squash shaped like a slightly curved cylinder, a bit smaller at the top than the bottom. A zucchini's skin color can vary from dark to light green, sometimes with yellow markings that give it a mottled or striped look. The off-white flesh has a very pale green cast and the flavor is light and delicate. Common market length is 4 to 8 inches long and 2 to 3 inches thick. However, some specimens are as tiny as a finger while others — usually home-grown — can reach a mammoth 2 feet long by 6 inches in diameter (or more). Fresh zucchini is available year-round in most supermarkets, with a peak period during late spring. Select small zucchini, which will be younger and therefore more tender and have thinner skins. The skins should be free of blemishes and have a vibrant color. Zucchini can be cooked by a variety of methods including steaming, grilling, sautéing, deep-frying and baking.

From The Food Lover's Companion, Fourth edition by Sharon Tyler Herbst and Ron Herbst. Copyright © 2007, 2001, 1995, 1990 by Barron's Educational Series, Inc.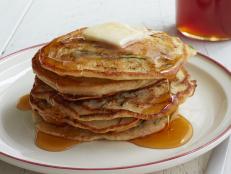 Food Network Magazine came up with dozens of smart ways to use all that summer squash.