What do you do on a daily basis?
I work from project to project, so on any given day I might be working on set for a TV show, cooking a lunch at the Food Network Kitchen for our ad sales department and their clients, setting up a cooking demo at a morning show or developing recipes for our new business department. There's so much variety to my, job, which keeps things interesting.

Who is your culinary icon?
That's too hard to answer.

Who is your favorite food TV personality, past or present?
I have a nostalgic love for all the cooking shows I used to watch on PBS as a kid, before Food Network ever existed. No surprise here, Julia Child's and Jacques Pepin's shows ranked as my favorites from that era. I could literally watch Jacques Pepin chop onions all day. In the early years of Food Network, I was a fan of David Rosengarten's show Taste. From a bare-bones set, David would obsessively analyze a particular dish or ingredient or cooking technique. Ah, I had found a person after my own heart — someone on TV who showed me it was OK to geek out about food.

What's your favorite cookbook?
Whenever I visit my parents these days, I invariably find myself poring over their Time-Life Foods of the World cookbook collection. I covet these books and hope they will one day be mine (sorry, Mom and Dad). When my family first moved to the United States, my mother signed up for the Time-Life cookbook program. Every month, she received a new volume in the mail focusing on a specific international cuisine or culinary region, such as China, Scandinavia, Russian cooking or Creole and Acadian. Not only were these books educational and aspirational for a food-obsessed youngster, but looking at them now, I find them fascinating for the historical and cultural snapshot they provide of U.S. food culture and writing in the 60s and 70s.

In terms of practical cookbooks, when I first started cooking for myself in earnest (i.e., when I went away to college and couldn't rely on my mother anymore), Marcella Hazan's Classic Italian Cooking and More Classic Italian Cooking were my go-to sources for fast, easy and reliably delicious meals. Her recipes were deceptively simple, but they demonstrated the importance of good ingredients, solid technique and an attention to detail.

What dish or ingredient will we never catch you eating?
There's very little I won't eat. Some ingredients I don't really enjoy are marjoram and intestines.

What's your favorite condiment?
Sambal oelek, though I'm currently loving the homemade rayu chili sauce at my neighborhood ramen shop.

What's the first dish you learned to make?
I can't remember the very first dish, but I do remember the first time I made dinner for me and my older sister (our parents were working that night). Inspired by the Fleischmann's margarine cookbook, I made the recipe for sweet and sour meatballs with a clingy peach sauce. Let's just say that I never made it again. However, my sister kindly ate them and probably appreciated the effort more than anything.

Sweet tooth, salty tooth or both?
Predominantly salt tooth, but I do get cravings for buttery, sugary pastries.

What kitchen tool can't you live without?
A well-seasoned cast-iron pan

What music do you like to listen to in the kitchen?
I tend to listen to stations on Pandora. I also catch up on This American Life broadcasts while I'm cooking.

What's your favorite food scene from a movie?
Everything in Tampopo, my favorite "ramen western"

What's your favorite alcoholic beverage?
My husband is a big cocktail enthusiast, so I wind up trying a lot of different cocktails. Some of my favorite classics are Corpse Reviver #No. 2, Aviation and Last Word. You could say that I like gin. Armagnac and Templeton Rye aren't bad, either. Oh, and anything bubbly.

If you weren't in food, what career would you have liked to have tried?
Maybe architecture or urban planning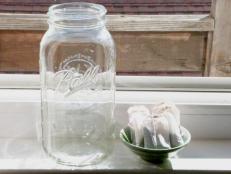 Learn about how to make sun tea from Food Network using a glass pitcher, regular tea leaves and a homemade simple syrup.