Chefs' Picks: Best Burgers in New York City
Petite and cheap or dripping with luxury, here are four top burgers in New York City, as picked by the chefs who love 'em.
Every omnivore appreciates a good burger. It's one of the few food items that's self-indulgent and affordable — unless, of course, it's slathered with foie gras and truffles. Petite and cheap or dripping with luxury, here are four top burgers in New York City, as picked by the chefs who love 'em.
Dale Talde of Talde Brooklyn knows great burgers — he serves delicious burger renditions at Thistle Hill Tavern and his dive bar, Pork Slope. When it comes to eating burgers out and about, his all-time favorite comes from popular downtown Brooklyn bar Two8Two Burger. "This burger is great," he says. "It's a big burger, it's really juicy and, most importantly, it's seasoned really well."
At this point, the publicly traded, cult-favorite Big Apple-based burger chain needs little introduction. Two heavyweight Gotham chefs picked Danny Meyer's fast-casual concept as a great burger. Carla Hall of the upcoming Carla Hall's Southern Kitchen says that it harkens back to childhood memories: "I like Shake Shack's burger because it reminds me of the burgers I got when I was a kid at my granddad's five-and-dime." Talde agrees, saying, "Shack Sauce is great. I love that I can eat one and think, 'Yeah, I could eat three more of these.'"
When pizzaiolo Paul Giannone of Paulie Gee's is craving America's other favorite food, he looks to this Michelin-starred Greenwich Village classic. His pick is the $28 Black Label Burger — made with prime dry-aged beef — with the standard caramelized onions on the side: "My first bite stopped me in my tracks. Now, whenever eating any other burger, I wish it was a Black Label. I am ruined."
As the executive vice president of fourth-generation ground beef purveyor Schweid & Sons, Jamie Schweid comes from a long line of burger masters. When he gets a hankering, Schweid heads to South Brooklyn for the high-quality signature selection from this gourmet food truck. "I love the Hard Times Sundae burger, because of the simplicity," he says. "They use the most-marbled cut of beef possible, along with American cheese, sauteed onions and bacon. Those elements of a burger have not changed for years; however, the way Hard Times prepares the burger, you would think it was their own."
Shake Shack photo courtesy of Evan Sung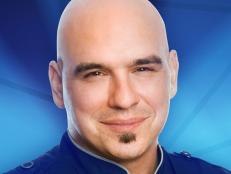 Food Network stars name their top burger spots.