This round, rather flat (3 to 4 inches in diameter by 1 inch high) "muffin" is made from a soft yeast dough that, after being formed into rounds (by hand or with crumpet rings), is baked on a griddle. It can be made at home but is readily available commercially in an assortment of flavors including sourdough, whole wheat, raisin, cinnamon and cornmeal. English muffins are halved before toasting. In order to produce a surface with the proper peaks and craters (which adds to their crunchy texture and provides plentiful pockets for butter and jam), English muffins must be fork-split and gently pulled apart. Using a knife to cut them in half will not produce the desired result.

From The Food Lover's Companion, Fourth edition by Sharon Tyler Herbst and Ron Herbst. Copyright © 2007, 2001, 1995, 1990 by Barron's Educational Series, Inc.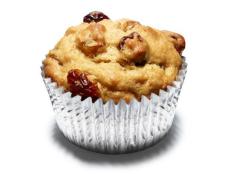 Choose from these fun new ideas and bake a batch for holiday guests.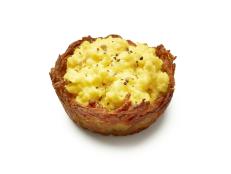 Every dish is more fun when it's mini ...