Duff Has His Cake, Eats It Too
What is the one thing the Ace of Cakes has always wanted? A Meat Cake! Dreams do come true: Duff Goldman was presented with a breakfast cake this morning at FN headquarters in New York City, in honor of his birthday.
Skip the buttercream and pass the prosciutto. Happy Birthday Duff! (We included the original diagram in case you want to try this at home.)
--Margie Gilmore and Norina Li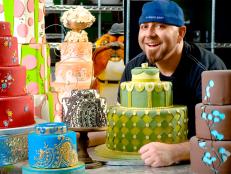 In his new Ace of Cakes book, Duff Goldman reveals how he became America's most outrageous pastry whiz.