20 Delicious, Gluten-Free Holiday Cookies
Bakes cookies that everyone can enjoy, regardless of dietary restrictions: Silvana Nardone put together a list of the best Christmas cookie recipes, and they're all gluten free.
Gluten-free or not, the holidays are just not the same without a assortment of colorful cookies. So I've rounded up recipes from some of my favorite bloggers, who develop recipes I trust. I've included my new Gluten-Free, Dairy-Free Buttery Cut-Out Cookies with Royal Icing recipe, a feat for me (and my family and friends) considering my royal icing anxiety. (Read my story and get detailed pictures of thick and thin royal icing textures on my blog.)
All of the cookies are gluten-free, and some are also dairy-free, soy-free, grain-free and refined sugar-free. I hope there's a cookie in here for just about everyone in your life—especially you.
Gluten-Free, Dairy-Free Buttery Cut-Out Cookies With Royal Icing
¾ cup (1½ sticks) unsalted butter, vegan butter or shortening, at room temperature
¼ cup confectioners' sugar
2 large egg yolks, at room temperature
1 teaspoon pure vanilla extract
1½ tablespoons powdered egg whites
1½ teaspoons fresh lemon juice
½ pound (about 2 cups) confectioners' sugar
Sanding sugar and sprinkles, for decorating
1. In a medium bowl, combine the flour, baking powder and salt.
2. Using an electric mixer, beat together the butter, granulated sugar and confectioners' sugar on high speed until fluffy, about 3 minutes. Add the egg yolks and vanilla; beat on low speed until combined. Add the flour mixture and beat on low speed until just combined.
3. Divide the dough in half. Place each between 2 sheets of parchment papers. Working 1 dough at a time, roll out each until about ¼-inch thick. Freeze the dough with parchment until firm, about 2 hours or overnight.
4. Position a rack in the center of the oven and preheat to 375°. Line 2 baking sheets with parchment paper and remove the dough from the freezer; let sit for about 5 minutes, then using a cookie cutter, cut the frozen dough into shapes and place about 1 inch apart of the prepared baking sheets; return to the freezer until firm, about 30 minutes or overnight. Repeat with the remaining dough and dough scraps.
5. Bake the cookies, 1 baking sheet at a time, until just golden at the edges, about 11 minutes. Let cool slightly on the baking sheet; transfer to a wire rack to cool completely.
6. In a standing mixer fitted with a whisk attachment, beat together the powdered egg whites and warm water on medium-low speed until just combined. Add the confectioners' sugar and lemon juice; beat on medium speed until combined. Increase the speed to high and beat until thick and glossy, about 5 minutes, for the thick royal icing.
7. To decorate the cookies, fill a pastry bag fitted with a No. 2 round tip with thick royal icing and pipe decoratively or outline the cookies, then let set, about 1 hour. If you want to flood the cookies, let the thick royal icing set for about 15 minutes and add more water, 1 teaspoon at a time, to the remaining thick royal icing; beat until combined and glossy. To flood, fill a 2-ounce squeeze bottle with thin royal icing and fill the cookie, applying even pressure and using the tip of the bottle to spread the icing. Decorate with sanding sugar and sprinkles.
Here's a festive cookie sampling of the best cookie recipes on the web right now. They're from some of my favorite bloggers, who develop recipes I trust, and they're all gluten free.
Chocolate Almond Joy Bars from Elana Amsterdam of Elana's Pantry and the newly released cookbook, Gluten-Free Cupcakes: 50 Irresistible Recipes Made with Almond and Coconut Flour.
Rainbow Cookies from Nicole Hunn of Gluten-Free on a Shoestring and the newly released Gluten-Free on a Shoestring Quick & Easy.
Peanut Butter Chocolate Bon Bons from Jennifer Perillo of In Jennie's Kitchen and the upcoming cookbook, Homemade with Love: Simple Scratch Cooking from In Jennie's Kitchen.
Triple Chocolate Gluten and Dairy-Free Biscotti from Jacqueline Raposo of The Dusty Baker and Easy Eats Magazine.
Double Chocolate Chip Cookies from Tara Barker of A Baking Life.
Peppermint Bark Cookies from Brittany Angell of Real Sustenance and the newly released cookbooks, The Essential Gluten-Free Baking Guides, Part 1 and Part 2.
Chocolate-Peanut Butter Meltaways from Amy Howard of Easy Eats Magazine.
Gluten-Free Cut-Out Cookies from Elizabeth Barbone of glutenfreebaking.com and the newly released cookbook, How to Cook Gluten-Free.
Grain-Free, Dairy-Free Gingerbread Men from Amy Green of Simply Sugar and Gluten-Free and the cookbook, Simply Sugar and Gluten-Free: 180 Easy and Delicious Recipes You Can Make in 20 Minutes or Less.
Gluten-Free Thin Mint Cookies from Jeanne Sauvage of Art of Gluten-Free Baking and the newly released cookbook, Gluten-Free Baking for the Holidays: 60 Recipes for Traditional Festive Treats.
Gluten-Free Cherry Tassies from Carol Kicinski of Simply…Gluten-Free and the newly released cookbook, Simply . . . Gluten-free Quick Meals: More Than 100 Great-Tasting Recipes for Good Food Fast.
Moravian Molasses Ginger Spice Cookies, Gluten Free from Lisa Stander-Horel of Gluten-Free Canteen and the newly released cookbook, Book of Nosh: Baking for Jewish Holidays & More.
Dairy, Egg, Nut and Gluten-Free Sugar and Spice Cookies from Kelly Rudnicki of Food Allergy Mama and the cookbook, The Food Allergy Mama's Baking Book.
Chocolate Espresso Chewies from Laura B. Russell, author of The Gluten-Free Asian Kitchen.
Speculaas (Dutch Windmill Cookies) from Erin Romanos of The Sensitive Epicure.
Gluten Free Hemp Seed Wedding Cookies from Cybele Pascal, author of the newly released Allergy-Free and Easy Cooking: 30-Minute Meals without Gluten, Wheat, Dairy, Eggs, Soy, Peanuts, Tree Nuts, Fish, Shellfish, and Sesame.
Gluten-Free Chewy Chocolate Chip Cookies from Aran Goyoaga of Cannelle et Vanille and the newly released cookbook, Small Plates and Sweet Treats: My Family's Journey to Gluten-Free Cooking.
Persimmon Scones from Kelly Brozyna of The Spunky Coconut and the newly released cookbook, The Spunky Coconut Dairy-Free Ice Cream Cookbook: Soy-Free, Sugar-Free, Vegan.
Karina's Gluten-Free Gingersnaps from Karina Alrich of Gluten-Free Goddess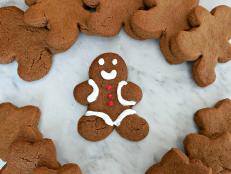 This gingerbread recipe is not only free of gluten, it's also devoid of three additional, common food allergens: eggs, soy and dairy.