How to Dress Up a Cocktail
If you want to jazz up your cocktail game, try playing around with what is on the edge of the glass. The trick is to find flavors that complement each other. The cast of The Kitchen offers up a few of their favorites here.
Katie rims a pineapple rum cocktail with a lemon wedge and ground up freeze-dried pineapple. Sunny grinds up peppermint candies with one packet of hot chocolate mix, and rims her hot chocolate glass (using water to get the mix to stay on the glass). Marcela grinds up sour Mexican candies with chile powder and uses a lime to attach the mixture to the rim of a glass full of lemonade, agua fresca or beer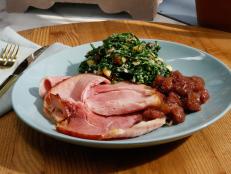 Learn new ways to transform your holiday ham.