vinegar made from cider, usually apple.

From The Food Lover's Companion, Fourth edition by Sharon Tyler Herbst and Ron Herbst. Copyright © 2007, 2001, 1995, 1990 by Barron's Educational Series, Inc.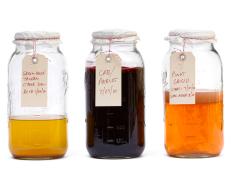 Chopped host Ted Allen has the perfect solution for all that leftover holiday wine: Make your own vinegar. He shared his vinegar-making secrets with Food Network Magazine.