This favorite New York City soda fountain drink has been popular since the 1930s. Egg creams don't contain a speck of egg but are so named because of the froth (resembling beaten egg whites) that crowns the drink. They're made with a mixture of milk and chocolate syrup into which seltzer water is spritzed, causing the mixture to foam enthusiastically.

From The Food Lover's Companion, Fourth edition by Sharon Tyler Herbst and Ron Herbst. Copyright © 2007, 2001, 1995, 1990 by Barron's Educational Series, Inc.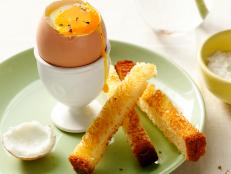 Egg lovers, rejoice! Here's a recipe for every Sunday until this time next year from Food Network Magazine.