A technology whereby cookware is heated using magnetic energy. It requires a special smooth ceramic cooktop with induction energy coils directly beneath the surface. These coils produce high-frequency alternating current from regular low-voltage direct current. When cookware made of a magnetic-based material is placed on this special stovetop, the molecules in the vessel begin to move so rapidly that the pan (not the stovetop) becomes hot. Removing the pan from the cooking surface produces an immediate slowdown of the gyrating molecules, which means the pan begins to cool. This gives a cook immense control over what's being heated. Although most steel- and cast-iron-based vessels work well, those made of aluminum, copper and some stainless steel can't be used on an induction cooktop because they aren't magnetic. Special pans designed for induction cooking are available but, before making a purchase, first try a simple test on your cookware: if a magnet sticks to its surface, the pan is suitable. In addition to an induction stovetop's obvious advantages of heat control, safety, and energy efficiency, its smooth surface makes it a snap to clean.

From The Food Lover's Companion, Fourth edition by Sharon Tyler Herbst and Ron Herbst. Copyright © 2007, 2001, 1995, 1990 by Barron's Educational Series, Inc.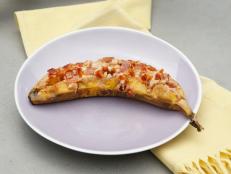 Just because the fire has died down doesn't mean your evening is over! Bask in the afterglow of the grill with these clever ideas from the cast of The Kitchen.