1. Any of various unleavened doughs, the basics of which include butter (or other fat), flour and water. Examples include puff pastry, pâte brisée (pie pastry) and pâte sucrée (sweet short pastry). 2. A general term for sweet baked goods such as danish pastries and napoleons.

From The Food Lover's Companion, Fourth edition by Sharon Tyler Herbst and Ron Herbst. Copyright © 2007, 2001, 1995, 1990 by Barron's Educational Series, Inc.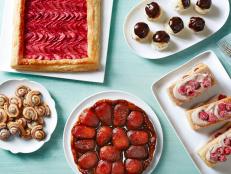 Turn store-bought dough into brunch, apps and desserts.