A fairly simple tool consisting of two attached hinged handles, one with a ring at the end, the other with a blunt prong. The olive or cherry is placed in the ring and the handles are squeezed together, forcing the prong through the fruit and pushing the pit out through the hole in the ring. Pitters (also called stoners) come in various designs and sizes. They can be found in gourmet shops and in the kitchenware section of many department stores.

From The Food Lover's Companion, Fourth edition by Sharon Tyler Herbst and Ron Herbst. Copyright © 2007, 2001, 1995, 1990 by Barron's Educational Series, Inc.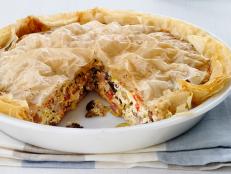 A hearty egg-and-cheese pie from an Oregon reader came out on top in our olive-themed contest.