A firm, round, white mushroom that can range in size from 4 ounces to a giant 50-pounder. It has a mild, nutty flavor that complements many foods. Puffball mushrooms are available sporadically in specialty produce markets. They can be cut into thick or thin slices, breaded and sautéed, or chopped and used in a variety of dishes. See also mushroom.

From The Food Lover's Companion, Fourth edition by Sharon Tyler Herbst and Ron Herbst. Copyright © 2007, 2001, 1995, 1990 by Barron's Educational Series, Inc.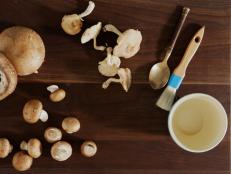 Use these tips to add earthy richness to your favorite dishes.