Season 9 Dictionary + The Dial of Doom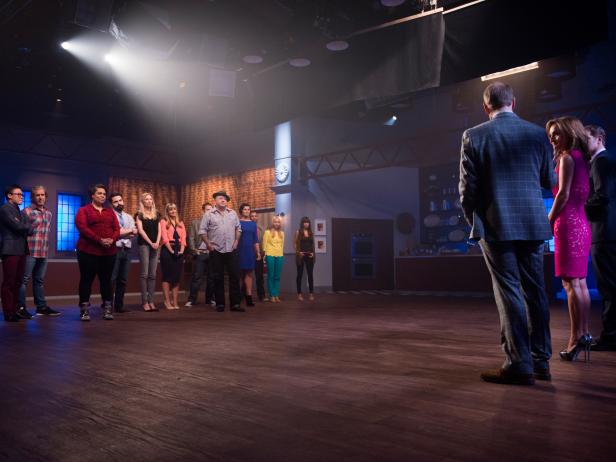 Finalists Viet Pham, Chad Rosenthal, Connie "Chef Lovely" Jackson, Andres Guillama, Danushka Lysek, Damaris Phillips, Rodney Henry, Chris Hodgeson, Stacey Poon Kinney, Russell Jackson, Nikki Dinki and Daniela Perez Reyes facing Mentors Bobby Flay, Giada De Laurentiis and Alton Brown at the Mentor's Challenge "Pitch Tape" Reveal as seen on Food Network Star, Season 9.
Eddy Chen, 2013, Television Food Network, G.P. All Rights Reserved
The newest season of Star kicked off this past Sunday night, and along with 12 new contestants, there are a couple of new features added to the show that may be unfamiliar to fans. This handy little guide should help navigate you through the next 10 weeks of competition.
Challenges: This season there are two different challenges that can occur in each episode. If an episode includes a Mentor Challenge, that means Alton, Bobby and/or Giada will help guide the finalists through that day's events. The mentors will share their advice and raise any possible concerns they may have. After the Mentor Challenge, finalists will be faced with a Star Challenge. This can consist of cooking demonstrations or presenting to a focus group.
Finalists: This year the mentors are tasking 12 hopefuls with weekly challenges in the ultimate multi-month interview for the chance to earn their dream television job. The contestants bring with them a mix of backgrounds, including culinary school, restaurant management, private chef and food blogging.
Focus Group: New to Star this year, a group of ultimate Food Network fans and food enthusiasts will help the mentors decide who came out on top and on the bottom during the challenges. This group will also be the driving force behind the dials of doom (see below).
Food Star Kitchen: When the finalists aren't on location in and around Los Angeles, they'll be cooking and presenting in this space (see photo below).
Mentor-Judges: Alton, Bobby and Giada are back this year as both mentors and judges.
Pantry: Located in the Star Kitchen, it includes common items like spices, kitchen gadgets and serving pieces. Fun fact: There are 36 spices available to the finalists, and the most-used spices include red pepper flakes, garlic powder and chili powder (see photo below).
Stew Room: When the judges are deliberating about the top and bottom performers, the finalists gather in this room.
What might be the most-exciting and nerve-wrecking addition to Star this season is the dial of doom. It records levels of like and dislike among the focus group, and then the mentors use those numbers to help formulate their decision for the top and bottom performers.