Aarti's After Party: Episode 1 Recap
Aarti Sequeira won Food Network Star season 6 and expanded her popular blog into a cooking show, Aarti Party (catch it on Food Network, Sundays at 7:30am/6:30c). As a Star veteran watching from her couch at home, Aarti shares her insider's take on what went down each week.
I was hoping to tell you which of the contestants stood out to me in this episode, and I will, but with this caveat: I really shouldn't.
At least, that's how my first day went. It was surreal. First, meeting all the contestants, trying to figure out how I measured up alongside them and getting used to the idea that I'd be bunking with these complete strangers for the next several weeks.
Then, there was getting used to the crew: camera operators who followed me into the bathroom when I brushed my teeth; producers equipped with Secret Service-type walkie-talkies and earpieces who maintained an all business-attitude so that we didn't get any inside information; having to ask said producers whether I could run to the restroom ; lining up in what seemed like a random order in the darkness behind set; whispering "good luck" to each other; waiting for what seemed like an eternity as my stomach dropped; and then suddenly being thrust into the too-bright lights with a battery of cameras in the corner aimed right at us, seemingly catching every tick, smile and frown.
All that before I even got to meet the Food Network personalities I'd spent years watching, learning from, analyzing. You're star-struck. Your brain waves fizzle out as you take them in. Their faces look a little different, they look shorter, taller, smaller, bigger and — oh, wait — their lips are moving. Oh crap, what did they just say? I have to do what?! In how much time? For how many people? Wait...now?!
See what I mean? So go easy on the finalists, y'all. This is hard, and hard in a way that you can't even begin to prepare yourself for.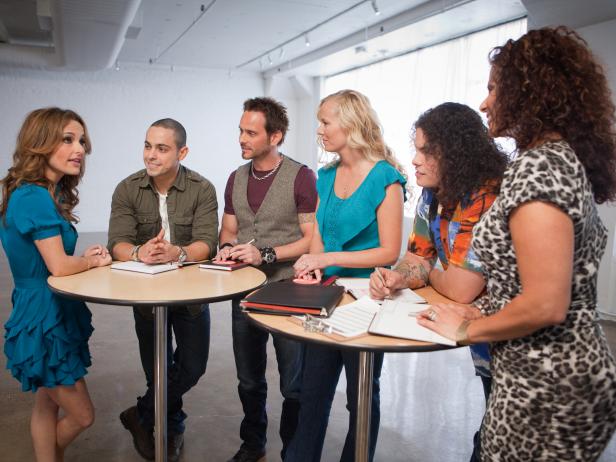 Next Food Network Star Season 8, Episode 1
Producer Giada De Laurentiis leading her team, Contestants Yvan Lemoine, Josh Lyons, Linkie Marais, Philip Ippy Aiona and Martita Jara in planning their restaurants and menus for their Star Challenge "Restaurant Impossible" in Episode 1, as seen on Food Network's Star, Season 8.
Todd Plitt, 2012, Television Food Network, G.P.
The makeup of each team is telling. Giada's team, much like herself, lights up the screen with their presence. I could hang out with Ippy all day. As soon as he smiles my heartbeat is lulled from the frenetic pace of L.A. to the soothing whoosh of island life. Martita's vivaciousness holds much promise, while Linkie's mixed-up heritage and accent remind me of my own.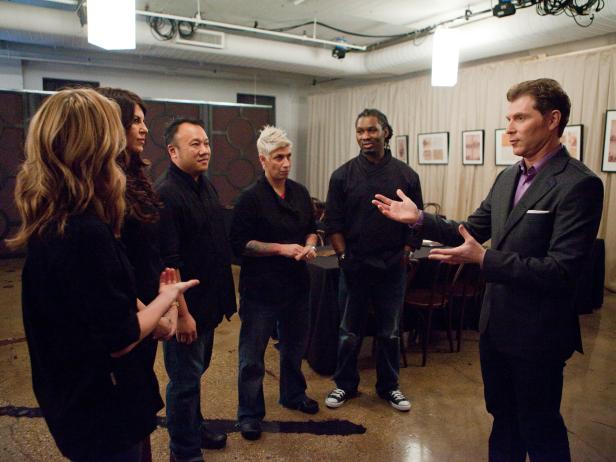 Next Food Network Star Season 8, Episode 1
Contestants Kara Sigle, Nikki Martin, Eric Lee, Michelle Ragussi and Malcolm Mithcell with their Producer Bobby Flay planning the added challenge of a restaurant presentation for their Star Challenge "Restaurant Impossible" as seen on Food Network's Star, Season 8.
Todd Plitt, 2012, Television Food Network, G.P.
Bobby's team: They're the hard-nosed chefs, the ones whose scars and burn marks reflect their expertise behind the line. Michele seems to have the perfect combination of expertly executed food and brassy, confident personality. Chorizo, clams and roasted garlic? Yes, please. And who tries to make ricotta from scratch and pulls it off? Eric, that's who. Pretty impressive, Mr. Lee.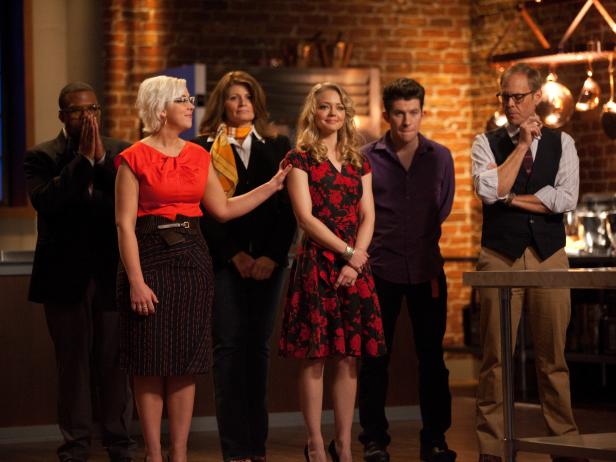 Next Food Network Star Season 8, Episode 1
Contestant Cristie Schoen revealed bottom of Producer Alton Brown and his team Contestants Judson Allen, Emily Ellyn, Martie Duncan, and Justin Warner in the Winner Reveal for the Star Challenge "Restaurant Impossible" as seen on Food Network's Star, Season 8.
Todd Plitt, 2012, Television Food Network, G.P.
It's Alton's team that kinda has my heart, though. It's the gang I would have hoped to have been picked for: the geeks, the outcasts, the dreamers. Be still my beating heart. Emily's '50s style is specific but fascinating and quite au courant. Martie genuinely warms my heart, not only because she's the oldest (read: the wisest?) of the bunch, but also because I love how she can laugh at herself. And Justin's geeky outsider mentality just might creep from behind and take it, especially if his lips continue to be a point of conversation.
I'm loving all the nuggets of wisdom that you can only learn from these folks who have been in this business since its infancy. I loved Bobby's suggestion to scratch the word "delicious" from your vocabulary; I'm guilty of using that word, but after trying that out for just one day, I've already found myself describing food with more accuracy, scouring my dictionary for new words to add to my arsenal. That's trademark Bobby, too: no-nonsense, straight-to-the-point tricks of the trade.
Alton's advice to feel that memory before you talk about it, to allow it to make you smile before you start talking, is great direction that speaks as much to his background behind the camera as in front of it. It's something I do all the time, but didn't realize it until he said it. When Giada asks Josh if he's made that dumpling soup before? Brilliant. Despite all instincts to the contrary, don't try to make something you've never made before, especially in the first round. Go with a dish that oozes confidence. I learned that lesson a number of times.
Todd Plitt, 2012, Television Food Network, G.P.
What I love about this new Star format is that not only are the contestants in it to win it, so are their mentors. This has to be a point of pride for the big three, nurturing the next new talent on Food Network's airwaves, the next breakout star. Not only are their reputations on the line, but after investing hours with these contestants day after day, they're going to get attached to these hopefuls as real people, not just two-dimensional contestants.
Some of my most treasured Star memories are the moments when these heroes of mine showed their human side. I still remember when Susie lost her temper at my utter lack of focus. It was tough love, but I needed it, and I cherish it. I remember Giada getting teary at our family reunion episode, especially when parents saw their children for the first time in weeks; it was a feeling I'm sure she's well acquainted with. At the food trucks, I made a naughty joke without realizing it, which sent Bobby doubling over in laughter and Paula cackling in pure joy.
We are so used to seeing the hosts somewhat removed from the fray, either doling out challenges or judging the outcome. But now, in their new roles as mentors, I think we'll get to know each of them as honest-to-goodness people, rather than TV stars. We'll learn what makes them tick, what's important to them, perhaps a little of what got them to where they are today. People ask me all the time, "What was so-and-so really like?" Well, I think you're going to find out this season.
What did everyone else think?