Martita's Exit Interview: Farewell to Team Giada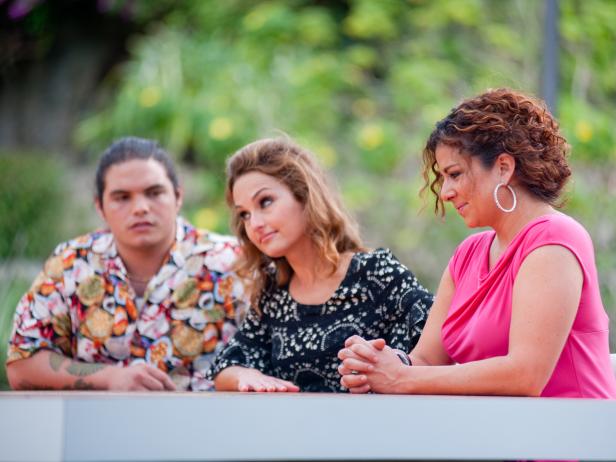 Next Food Network Star Season 8, Episode 9
Contestans Phillip "Ippy" Aiona, revealed safe, and Martita Jara, Eliminated, with thier Star Producer Giada De Laurentiis before The Network in The Pitch Room for Elimination from the Producer's Challenge "Orange Story" as seen on Food Network's Star, Season 8.
Edward Chen/Creel Films, 2012, Television Food Network, G.P.
On the latest episode of Star, Team Giada said a tearful goodbye to Martita Jara. The judges felt that after nine weeks, they'd seen glimmers of a star, but Martita just wasn't quite ready for prime-time. The pitch room was emotional on all sides: "It has been such a pleasure knowing you, and your food is amazing," Bob Tuschman told Martita.
Before leaving Miami, Martita sat down to share some parting words. Here's a sneak peek at what she had to say:
I think at this point, you're down to the best of the best. I can't be Ippy, and Ippy can't be me. If they're looking for that, they're going to get that; if they're looking for this, they're going to get this. I can't compete with him because I don't do what he does and he can't compete with me because he doesn't do what I do. I'm not Michele; Nikki's not me; I don't do what Martie does. We're just all such individuals and our POVs are each so distinct from the others. It is what it is.
It's pretty amazing to have even made it to the 15, and then to get to week nine. Every week that I made it was huge. To have everyone saying "your food, your food" and just giving me compliments? It's the biggest thrill.
Giada, she is tough. She is a gutsy little thing and she's a fighter. She's really intense; she knows what she's looking for and she's not afraid to tell you. But it comes from a place of love and understanding and it's wonderful, because who better to teach me than her? She's a pro. It's awesome to have someone like her guiding and advising you every step of the way.
I'm really excited for what the future holds. I'm happy.