The Most Intense Episode. Ever. — Star Commentary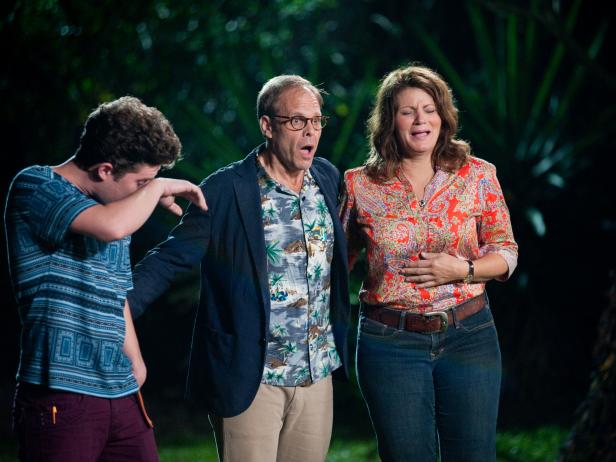 Next Food Netowrk Star Season 8, Episode 10
Contestant Justin Warner revealed winner and a sudden suprise reveal that Contestant Martie Duncan will also be moving on to Star Producer Alton Brown, and everyone else's shock, at the final elimination to see who moves on to shoot their Pilots, as seen on Food Network's Star, Season 8.
Edward Chen/Creel Films, 2012, Television Food Network, G.P.
Well, you can't say that Food Network doesn't know how to shake things up, right? This year, the network is leaving the decision of this year's winner in your hands, fans. And while the opportunity to vote for your next Star ended last night at 5pm, you can relive the emotional and surprising episode that sent four hopefuls instead of three to the finale.
In an unprecedented moment during last Sunday's elimination, both of Team Alton's final two contenders, Justin and Martie, were given green lights to create show pilots and advanced to the finale to compete against Team Bobby's Michele and Team Giada's Yvan. Understandably, tension filled the air in Miami's outdoor pitch room, as Alton, Justin and Martie waited to find out who would be sent home. And of course, that same angst found its way into many fans' living rooms on Sunday, as they endured a doozy of a cliffhanger.
Sunny Anderson was among those watching the drama unfold from home. Though she sat on the guest panel that judged the six contestants' promo videos, she and the other judges didn't see the elimination, so this week's shocking turn of events was just as stunning to her as it was to fans. Sunny Tweeted a spot-on reaction to the commercial break before the announcement. "IF YOU JUST YELLED AT YOUR TV RT!!!! I hate a cliffhanger!!! #star," she wrote, earning our Fan Post of the Week. Many fellow Star fans echoed her feelings.
Once Bob and Susie revealed that Team Alton wouldn't suffer an elimination, the situation on set and at many fans' homes quickly turned from emotionally draining to downright emotional. Just as Alton couldn't help but tear up when he learned the good news, so too did fans, who were relieved that both finalists had survived.
Be sure to tune in this Sunday at 9pm/8c to see who from #TeamAlton, #TeamBobby or #TeamGiada you voted to be our next Food Network Star. Hosting a Star viewing party? Check out these party-ready snack recipes that Justin, Martie, Michele and Yvan created especially for fans.